Hello to Family and friends,
yell's out to wake up @Alphea was that loud enough to get your attention?
The purpose of this message thread is to help me get the best bang for my buck in building me a Brand Spanking New and Shiny Gaming PC.
Shiny is the most important aspect and to have loads of fun and laughs along the way. Anyone can input idea's and suggestions to debate pro's and con's for particular hardware selections.
I tried to find the right place to post this about 10 times but kept getting side tracked by other posts. So I'm dumping it right here. I know the old forums had a dedicated area for technical talk of this variety.
My Favorite colour is pink and will accept purpley-pink as an alternative for LED colour options. The Budget is set at $3219AU, but must be inclusive of OS and assembly costs. Shipping doesn't need to be factored in. The entire budget is for the box, except one little item (see pic below hehehe).
I don't need Monitor mouse or keyboard either as I still have my Razor Black Widow II(green LED) and my gaming mouse. Still squeezing the last bit of life out of the RBW-II(Green LED)keyboard, but have the Logitech G710+ brand spanking new unopened still in its box. (I learned the hard way that gaming equipment will die–or I kill it --beyond resuscitation when the shops are shut).
Maybe someone remembers the night the poor thing became the second casualty after the first Razor Black Widow I(blue LED), died from same trauma. This one with green lights almost died when I fell asleep in front of the computer and spilled my coke over the keyboard.
I kid you NOT it was the exact same death as RBW-I(Blue). That's when I purchased the backup Logitech one, but turns out green lights one wasn't totally dead it was just faking it and still lives on with some disability.
I was determined to get more life out of it because it was still very new when it happened and I worked around the malfunctioning keys. I swear it must have decided to work again after it spotted its Shinier new replacement. Isn't it part of Murphy's Law on technology? You would think I would have learned my lesson after the first keyboard death before I started buying expensive gaming keyboards, but Noooooooo, the lesson imparted was to keep backup equipment instead of
don't have open drinks near computer
don't fall asleep with open drinks near the computer
better yet don't fall asleep in front of the computer at all.
go to bed if sleepy.
I have covered all eventualities to keep me gaming til the day I die.

except breaking my back doh! Sorry it took me so long to come back after I recovered from it. There's a long long story about what I've been doing since then but I'll save it for a different thread.
Oh and the ODD $219 in the budget is for this absolutely must have headset.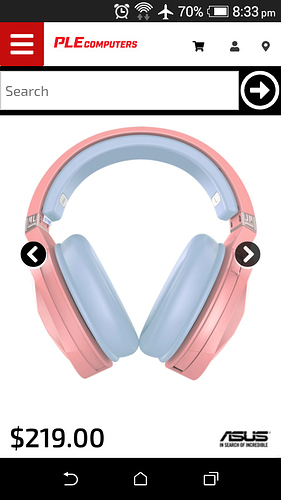 So in summary:
budget is $3000au including OS and assembly costs
I love shiny things
fave colour is pink (purpley-pink is acceptable)
place I shop at is
Hugs from Safari
PS: PLE do have pre-built options and I am not fussed about hardware being the newest available, just very good functionality and reliability. I'm partial to GeForce over Radeon and Intel over AMD and also don't touch anything with ACER, it might have cooties.
Edit my link didn't work attempt #1