Click the link to go to that year
E3 2018
E3 2019
E3 2021
---
Electronic Entertainment Expo (E3) 2019
Navigation:
EA Play - Post #17
X-Box - Post #18
Bethesda - Post #19
Ubisoft - Post #20
Square-Enix - Post #21
Nintendo - Post #23
Interesting Announcements AKA My Favourites - Post #25
New Additions to Xbox Game Pass - Post #26
EA Play - June 7-9
For those viewing online, we're skipping the press conference this year and are replacing it with multiple live streams that will air on Saturday, June 8, bringing you more of what you've told us you want - more gameplay and insights from the teams making the games. We'll also have content creators streaming live from our Creator's Cave in the Hollywood Palladium.

Here's the schedule for the live streams (all times PDT):

9:15 am: Countdown to 9:30 amY
9:30am: Star Wars™ Jedi: Fallen Order™

Hosted by online personalities Greg Miller and Andrea Rene

10:00am: Apex Legends

Hosted by commentator Alex "Goldenboy" Mendez

10:30am: Battlefield V

Hosted by online personality Julia Hardy and EA's Adam Freeman

11:00am: EA SPORTS FIFA

Hosted by Alex "Goldenboy" Mendez

11:30am: EA SPORTS Madden NFL

Hosted by NFL Network's Adam Rank

12:00pm: The Sims 4

To watch, be sure to tune in to EA.com or EA's YouTube or Twitch channels. If you are only interested in a couple of the games, you can also tune in at the specific times listed. For all EA PLAY content throughout the weekend, including exclusive gameplay reveals, trailers and breaking news, be sure to stay locked to EA.com.
Xbox - Sunday, June 9 13:00 PT / 16:00 ET / 21:00 BST
Stream the Xbox E3 Briefing in true 4K Ultra HD on your Xbox One or on Mixer.com. Or watch on the go with the Mixer mobile app for iOS and Android.
Also available on the following:
Bethesda Sunday June 9th 17:30 PT / 20:30 ET / 01:30 BST (Monday)
(Confirmed to not have TES6 or Starfield Content)
This year we're streaming through more platforms than ever before, including:
Ubisoft TIME: Monday 13:00 PT / 16:00 ET / 21:00 BST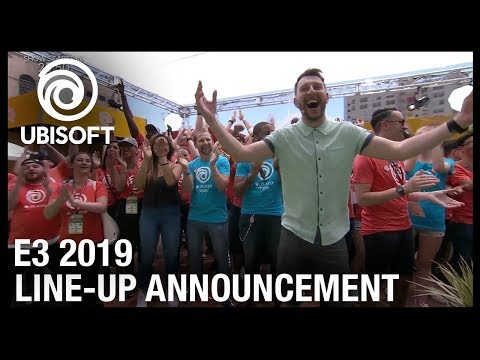 Catch all the broadcasts on Ubisoft.com, Youtube, Twitch, and Mixer. For all the latest from E3, keep your eyes right here on Ubisoft News, and whether you're heading to the LACC or tuning in from home, join the conversation online using #UbiE3.
Square-Enix Monday June 10th 18:00 PT / 21:00 ET / 02:00 BST (Tuesday)
Join us on Monday night, June 10 at 6 PM PT as we present Square Enix Live E3 2019 during a special broadcast directly from Los Angeles! Showcasing an exciting line up of titles, fans around the world can watch our live stream at sqex.link/e3.

Join the conversation online using #SquareEnixE3 and be sure to follow our official channels for all the latest news and info leading into the event!

Facebook.com/SquareEnix
Twitter.com/SquareEnix
Instagram.com/SquareEnix
Devolver Digital Monday June 10th 20:00 PT / 23:00 ET / 04:00 BST (Tuesday)
Nintendo Tuesday, June 12 09:00 PDT / 12:00 EDT / 17:00 BST
Nintendo Direct | E3 2019
Tune in on June 11 to get a sneak peek at upcoming games for the Nintendo Switch system!
June 11–13Nintendo Treehouse: Live | E3 2019
Dive deeper into select games with those who know them best, as Nintendo of America's Treehouse staff and guests stream live gameplay and commentary right from Nintendo's booth on the show floor.