WORLD OF WARCRAFT SHADOWLANDS PC COLLECTOR'S EDITION
Collector's Edition includes:
World of Warcraft: Shadowlands Epic Edition digital game key
Epic Edition in-game content
Shadowlands-Level Character Boost: Instantly boost a single character to be ready for Shadowlands-level content (note: this boost cannot be transferred between World of Warcraft accounts)
Anima Wyrmling Pet: Explore the afterlife alongside your new companion
Ensorcelled Everwyrm Mount: Take flight for your next adventure on a supernatural being of pure anima
Vestments of the Eternal Traveler: Use your Everwyrm to begin a quest for the Vestments of the Eternal Traveler, an all-new transmog set
Eternal Traveler's Effect for your Hearthstone: Return to your Hearthstone bind location with a reality-bending cosmetic effect
Illusion: Wraithchill Weapon Enchant: Unlock a chilling new cosmetic effect for your weapon (note: as with other Illusions, Wraithchill can be applied only to certain weapon types)
30 days of game time: Extend your stay in Azeroth (and beyond)
Even more physical and digital keepsakes
Art of the Shadowlands hardcover book: Explore the visual development of Azeroth's multifaceted afterlife
Collector's Edition Digital Soundtrack key: Download the stirring orchestral pieces from the Shadowlands soundtrack
Covenant Sigils 4-pin collector's set: Add the symbols of all 4 Covenants to your pin collection and adorn your backpack, lanyard, or clothing with the sign of your chosen path
Shattered Sky mousepad: Witness the moment Sylvanas shattered the veil between this life and what lies beyond, changing Azeroth's fate forever
Note: Shadowlands available on or before December 31, 2020. Requires World of Warcraft: Battle for Azeroth base game, internet connection, Blizzard registration, and Blizzard Battle.net desktop application to play. In-game items and Character Boost are not available in World of Warcraft Classic. Character Boost cannot be transferred between World of Warcraft accounts. See Details & Specs for full system requirements.
World of Warcraft: Shadowlands
Discover the Shadowlands, the world between worlds and the resting place for every mortal soul that has ever lived, whether virtuous or vile
Explore Azeroth's afterlife as you journey through hidden realms of wonders and horrors
Align yourself with one of the four Covenants of the Shadowlands, as these otherworldly shepherds of the dead each have their own ambitions, motives, and powers that can be yours
Ascend Torghast, the Tower of the Damned–a highly replayable, ever-changing dungeon in the dark heart of the Maw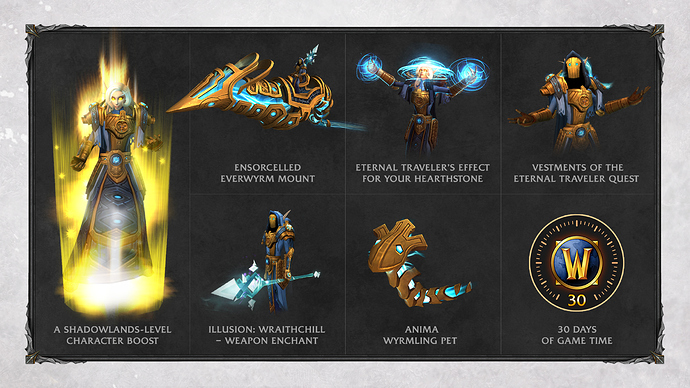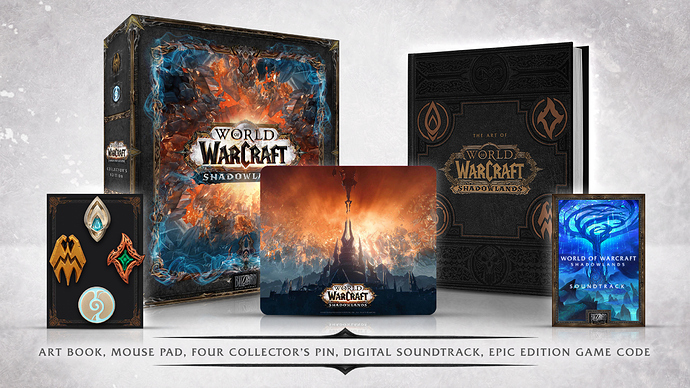 Kelryth:

I have mine pre-ordered Who else is getting it?