looks around Dang, still not here!
Well hopefully "Soon" ™
Did they say which year?

intrepid Studios revealed that Ashes of Creation may be released in 2020. There is no official release date yet, and the schedule is subject to change.
that's pretty non-committal. So that's a definite MAYbe
ya, I know. rhetorical right

More like a potential DECEMBERbe

They have a livestream this Friday (May 29th) I'm assuming they'll announce something about the first wave of backers getting into alpha 1 then (unless they just do it through Email with them. As of now Braver or worlds backers are scheduled to get in around the end of summer. Those who bought into the alpha 1 after the kickstarter are supposed to get access to the alpha late fall or early winter. We'll just have to wait and see if there's delays or not. Actual release I wouldn't expect until 2022
Leaders of Men get in in August according to the latest letter.
Thought I'd add this tidbit here.
The title of this thread needs to be modified

True, but it's not December yet!

Following the, "Well, it's MAY! Where's the MMO???"… 2020.
The Kickstarter began in 2017. Anticipated release was 2019, 2020, 2021. Only info I'm finding is AoC is still in Alpha 1. This accurate? Not Beta, pre release… we're now in April 2022.
How's it looking? For those playing, are you seeing enhancements that present this as a possible release '22?
I don't see that possible for a game that held Alpha 0, FIVE years later we're in Alpha 1 with Alpha 2 in the future, before reaching Beta 1 and Beta 2.
The dynamic world presenting significant challenges? What is stalling this game? NDA has been lifted. For those who are still mingling around from early Alpha days… Your thoughts?
Thanks in advance.
/signed: Grump from 2020, Grumpy 2021, Grumpier 2022. Haha!

A bit of humor laced with WT-Hell?
It is still progressing nicely. They recently changed from Unreal engine 4 to engine 5 which would set them back some but the initial showings of the new stuff is very impressive.
This is not a game being cranked out to make a payday and then wither away. It's being built on a long development path to try and create something that can endure more than a month or two.
I'd say that's the best response possible to such a grump query.
Hopefully it turns to endure as EVE, etc… seems, based on your description- it holds that potential.
What is your approximate time frame? I get the sense maybe 2024?
I have read that Alpha 2 will happen this year. Beta should follow that.
Yes, I think Alpha2 will still happen this year. I would expect 2024 before any finish line is hit. They're working to put so much into this title (and have already finished a huge amount of graphical design, zone design, etc) that I'm really content to wait for it.
The last alpha showed that it worked well under huge loads, that there wasn't any major roadblocks to their design ideas, they just need to get em done and out to us.

Here's my goto example of why I'm happy to wait.

Take a look at some of the snow effects about 90 seconds into this Unreal 5 promo reel. The sun shining through holes in the upper cave roof, glinting off the blowing snow is really impressive.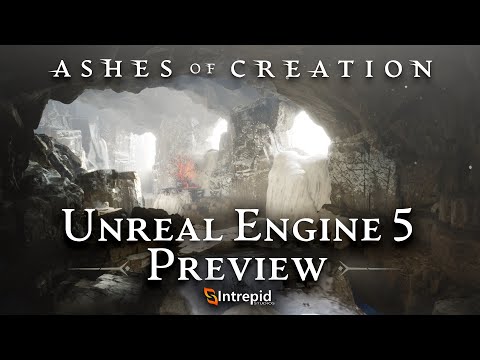 There is a specific quote in this thread that leads me to believe that alpha 2 is coming soon…
My best guess is Alpha2 will be in Q3.
Voyager Plus $375 Perk: …Name Reservation… Ouch!
Embers are the currency(?). What value does the ember hold - i.e. Question based on 100 embers for the package. In the scale of current game play, is marketing present?
What are the Alpha/Beta Release dates?
September 07, 2021 14:51

by Intrepid Studios
The month-long Alpha One test has concluded as of August 15th, 2021. We would like to send out a big THANK YOU to all of our glorious Alpha One testers.
We have not announced dates or schedules for Alpha Two, Beta One, or Beta Two yet. Never miss out on date announcements, and keep up with the latest news here!
In the meantime, we will continue periodic spot testing with our testers who have Alpha One keys as needed until we transition to the Alpha Two testing phase. You can read further information here on who has access to Alpha One and how to gain access if you are an Alpha One key holder.