Hi all,
Both the Fed and KDF Colony holdings are at 12,000 out of 13,000 Colony XP.
Fed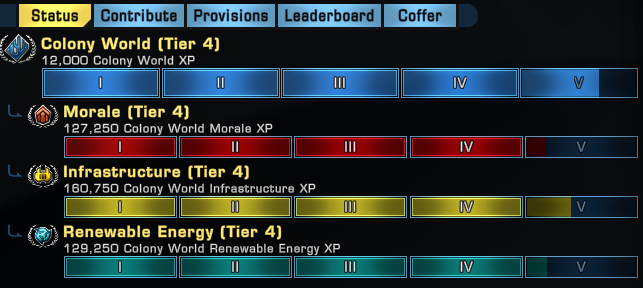 KDF

To get Colony XP, you need to finish the different subtrack (Morale, Infrastructure, Energy) tier upgrade projects. To improve the subtracks, there are two projects, each giving 500 or 1,000 of that subtrack XP until you fill the tier and get the upgrade project.
To get the Colony V upgrade project, you just need the 13,000 XP, no need for the subtracks to all be Tier V.

The fastest way to get that last 1,000 Colony XP is to focus one subtrack and finish the Tier V upgrade project for it.
So I will start slotting two of the three available projects with both the 500 and 1,000 XP projects from one subtrack, please prioritize these. For Fed it will be Infrastructure and for KDF it will be Energy (they are the most advanced atm).
Reference on Colony projects: List of colony world projects - Official Star Trek Online Wiki