We've been waiting for a possible sibling for Margo, our rescue from several years ago. Today I picked up a candidate that just might work. Her name is Nellie and she is a 13lb Dachshund mix, about 9yrs old and as sweet as can be.
First meet with Margo was excellent. They totally ignored each other except for side-eye glances. Margo was the one I was afraid would be hard to please, but so far so good. She really looks interested…follows Nellie all over the place and has not been rude.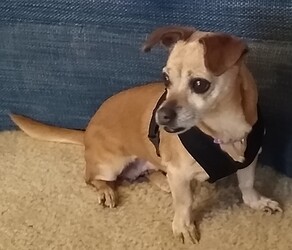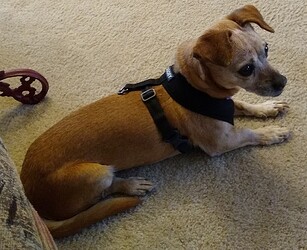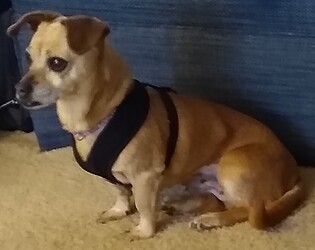 She is well mannered, happy, crate trained and house broken, and does not appear to be a barker which is good, neither is Margo. I turned them both out into the fenced in area off the back door and deck area, and they had a good time wandering around. So as long as peace reigns it just might work.
According to the Rescue folks:
She was surrendered to a local shelter but we weren't given any reason why. They didn't even share her original name, so we dubbed her Nellie. She's been with us for a week so far and we can't figure out why anyone would let her go. She's exceedingly sweet and well-mannered and great with the other dogs in her foster home.
I've been hoping to find a companion for Margo so she won't feel so lonely around us old folks because neither of us are that active (my son is 48). Good news too is the fact that she does not jump up on furniture at all. Perhaps she was discouraged by that because, even when Margo got up on the ottoman, she would not. When I picked her up to put her on the ottoman, she seemed afraid, so I figure she was punished for jumping up on furniture judging by her posture.
We are in day one of our 7 day trial period, but if this continues and the temperature between them actually warms up without any flare-ups, we will probably keep her.