Kalimdor Cup Race - Friday 8/18 9pm EST
The Alliance Chapter will be hosting the Kalimdor Cup this month. You must be level 70 and have Dragonriding unlocked on your character. It will be beneficial if you have all your Glyphs to maximize Vigor Generation. Gear level does not play into this event, this is open to any OTG member who has an Alliance Character on the Anvilmar Server Cluster.
KALIMDOR GRAND PRIX RACES
During the Kalimdor Grand Prix event, you will be able to access dragonriding races in Kalimdor! During these races, you will be given a rental mount, the Riders of Azeroth Drake, which as of right now looks just like the default skin for the Highland Drake.
There are 16 races in Kalimdor:
#1

Nordrassil Spiral in Mount Hyjal

#2

Hyjal Hotfoot in Mount Hyjal

#3

Fel Flyover in Felwood

#4

Ashenvale Ambit in Ashenvale

#5

Webwinder Weave in Stonetalon Mountains

#6

Desolace Drift in Desolace

#7

Feralas Ruins Ramble in Feralas

#8

Ahn'Qiraj Circuit in Silithus

#9

Uldum Tour in Uldum

#10

Un'Goro Crater Circuit in Un'Goro Crater

#11

Thousand Needles Thread in Thousand Needles

#12

Razorfen Roundabout in Southern Barrens

#13

Barrens Divide Dive in Southern Barrens

#14

Durotar Tour in Durotar

#15

Rocketway Ride in Azshara

#16

Winter Wander in Winterspring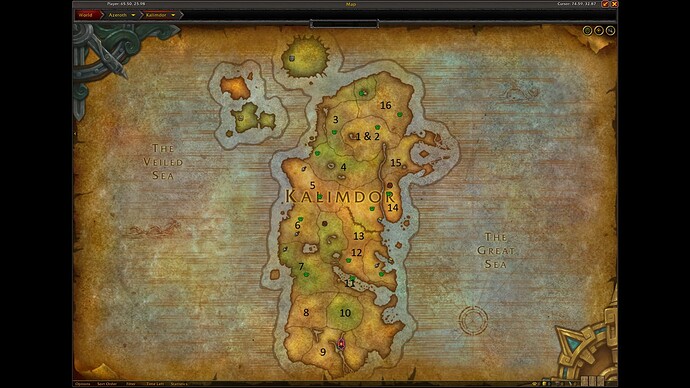 We will be forming up at the 1st Race Nordrassil Spiral in Mount Hyjal to start the event and race our way thru the circuit ending up in Winterspring. 1st person to cross the Winter Wander Finish Line is the winner for the INDIVIDUAL Event. What we will be doing in addition is depending on the number of participants we will be breaking into TEAMS based on random rolls to fill the Raid Roster.
In patch 10.1.5 310 mount speed was automatically earned while leveling. Everyone should have access to a 310 flying mount to zoom to the next starting point. No portals, no flight paths, no teleport hacks allowed. We will post the Waypoints for each leg of the event in Discord prior to start to ensure everyone has the ability to see it.
The main reason to complete the Kalimdor Grand Prix outside of this hosted event:
You will receive Riders of Azeroth Badge for completing Kalimdor Grand Prix activities - You receive 10 badges for completing the introduction quest, as well as 1 badge for each race rating, for a total of 9 coins per race for obtaining Gold times in both Normal, Advanced and Reverse versions of each race.
Badges can be exchanged for cosmetic rewards with Maztha, by the Dragonriding trainers in Valdrakken. Currently, you can purchase two items:
You will not earn enough badges to purchase the Transmog Set without going back and completing the 3 types of race styles obtaining Gold in each. This event is more for fun but also to show you the locations of these race starts.
There is also an introduction Quest for additional badges but doesn't need to be completed prior to the Cup to participate (If this is incorrect, we will post this requirement is needed)
While anyone will have the ability to run these races prior to the Cup on their own, I humbly ask you do not to further increase the enjoyment factor for everyone as we zoom thru these old zones that many of us haven't re-visited or possibly never stepped foot into since Vanilla.
Hope this is something you might enjoy doing in a group and structured in a way to make it somewhat fun & exciting.
Rewards will be announced at the start of the event. I don't want to spoil the surprise.
Trevain