I wonder if this means GW2 will work with Valves ProtonDB?
I doubt it. Arenanet doesn't support other OS's very well.
Thats what ProtonDB is for. Its a bundle of compatibility tools to make Windows games run on Linux and the key to making hardware like their SteamDeck work. According to the site its looking really good. https://www.protondb.com/app/1284210 some are reporting performance even better than running on Windows.
I will be joining in on Aug 23 for the Steam launch, been a long time since I played GW2 so I will see if I am still interested after playing a while. I see that Yak's Bend is the server listed, is that still OTGs home?
Yes but with alliances happening servers won't matter.
So, Something I found out the hard way, Installing the Steam version of GW2 requires you to create a new account tied to your Steam account. their is no way to log in to an already existing account through the official steam launcher… bummer… However, the few moments I did play through ProtonDB this way ran pretty good…
EDIT: Found a work-around! Using the Steam Install, you can log in with old non-steam accounts by adding a command argument.
%command% -provider Portal
Would you need to buy the expansions again through Steam, or does logging in your old account unlock everything?
they are separate accounts, so I started on Steam and then went back to my old account direct with GW2.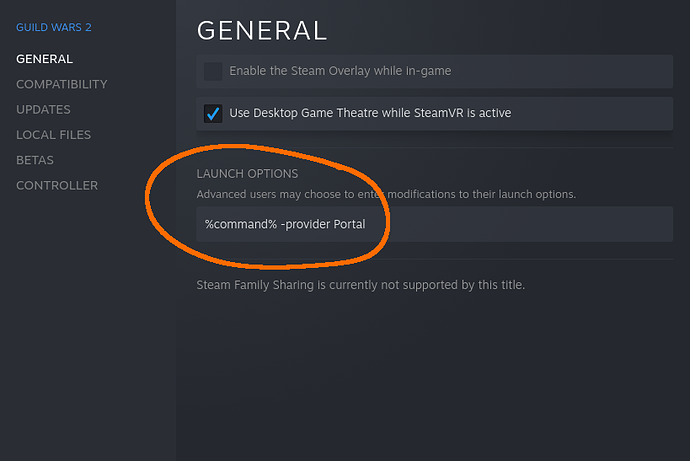 add "%command% -provider Portal" to GW2s Steam Launch Options to log in with normal non-steam accounts.
I no longer play, but one of the best MMOs. Probably the only one I walked around zones with OTG doing dynamic events without opening the map. It was just one event that lead to another. WvW was a blast in its heyday.
A friend from college was the VP of sales for NCsoft N. America or something at the time and I was to get in every test and early alpha. I'd go over to his house and there would be a box of NCsoft games I could just take. Most weren't worth it, but GW2 and GW were. Good times.
It works great with proton!