---
VTT Client: Fantasy Grounds Unity (Ultimate License)
Host DM Name: scourge2805
Host Password: will provide via Discord or PM
Game Name: will provide via Discord or PM
Game System: Starfinder
Voice: OTG Guild Discord - VTT channel
Dates/Time: Sundays at 8 PM EDT through 11 PM EDT, and see below
Preferred Party Size: 4-6
Current Party:
Ocelot - ??? - ??? (???)
Quixote - ??? - ??? (???)
Mithinar - ??? - ??? (???)
EATherrian - ??? - ??? (???)
Ryukan - ??? - ??? (???)
Stompey - ??? - ??? (???)
Party is closed.
---
This will be a running of the Horizons of the Vast adventure path by Paizo for their Starfinder role playing game. It's a 6-volume Starfinder AP that runs from level 1 through level 13.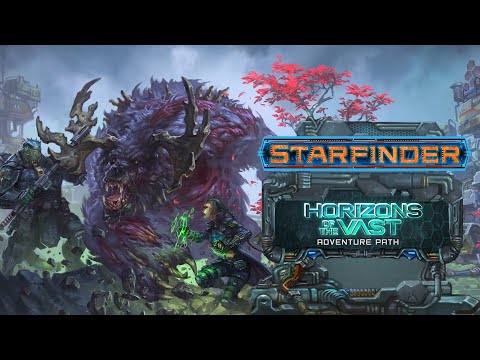 Horizons of the Vast Player's Guide
---
Entire AP as well as first adventure synopses:
As part of a massive effort to explore and develop an uninhabited planet full of valuable resources, the heroes are placed in control of a settlement and must deal with challenges from both within and without. Far from home, can the heroes establish a thriving community and survive the uncharted system's terrible secrets and mysteries?
With the discovery of an uncharted, resource-rich, and uninhabited planet in the Vast, several factions begin a joint settlement effort, and the heroes are given the chance to be the scouts and administrators of one such charter. As they explore the surrounding wilderness and grow their new settlement, they must contend with all manner of problems, from wild animal attacks to dissatisfied settlers. And the planet holds mysteries beyond counting!
---
All character options available from the following official Paizo sources:
Starfinder Core Rulebook
Starfinder Character Operations Manual
Starfinder Starship Operations Manual
Starfinder Galaxy Exploration Manual
Starfinder Armory
Starfinder Pact Worlds
Starfinder Near Space
Starfinder Alien Archive
Starfinder Alien Archive 2
Starfinder Alien Archive 3
Starfinder Alien Archive 4
Against the Aeon Throne

#1

- The Reach of Empire
Against the Aeon Throne

#2

- Escape from the Prison Moon
Against the Aeon Throne

#3

- The Rune Drive Gambit
SIgnal of Screams

#1

- The Diaspora Strain
Signal of Screams

#2

- The Penumbra Protocol
Signal of Screams

#3

- Heart of Night
The Devastation Ark

#1

- Waking the Worldseed
The Devastation Ark

#2

- The Starstone Blockade
Fly Free or Die Player's Guide
Gameplay information and/or rules from all the above sources is available for free here.
Character creation within Fantasy Grounds for the Starfinder ruleset is kinda wonky. Be prepared.
---
No purchases necessary.
Will be using Guild Discord for voice communication and Fantasy Grounds Unity as our virtual table top. A free demo license of Fantasy Grounds Unity is fine for connecting to my game.
---
Game time is Sundays at 20:00 EDT for 3 hours (ending at 23:00 EDT); 8:00 pm - 11:00 pm for you non-sci-fi (non-)nerds.
Session 0 - character finalization, character creation, last minute prep, discussion of colony charter system and making initial charter, etc will be on Oct 3rd.
Session 1 - AP/adventure start will be on Oct 10th.
---
Campaign Homework/Inspiration
Watch Avatar (film)
Play Pathfinder: Kingmaker (video game)
Watch Lost in Space (film(s), or television)
---
First Campaign Handout - Charter System