---
VTT Client: Foundry
Host Link: subject to change, will provide via Discord or PM
Game System: Pathfinder 2
Voice: OTG Guild Discord - VTT channel
Dates/Time: Saturdays at 8 PM EDT through 11 PM EDT, and see below
Preferred Party Size: 4-6
Current Party:
| Player | Character | Ancestry | Class |
| --- | --- | --- | --- |
| @Mithinar | ??? | ??? | ??? |
| @Ryukan | Tex Arcana | Human (Half-Orc) | Fighter (Marshal) |
| @Stompey | Dakota Bob | Human (Half-Elf) | Gunslinger (Alkenstar Agent) |
| @Schplam | Omni TomTom | Goblin | Rogue (Ranger) |
| @Findywen | Kadenza | Elf (Aphorite) | Cleric (Inventor) |
| Party is currently closed. | | | |
---
We'll be running the Outlaws of Alkenstar adventure path!
The adventure(s) take place mainly in the city of Alkenstar which lies in the Mana Wastes that separate the warring nations of Geb and Nex, all which lies on the eastern coast of Garund a continent of the world of Golarion. The nearby dwarven settlement of Dongun Hold is the origin of blackpowder weaponry in the world of Golarion. Due to lying in the Mana Wastes - where magic is at best unpredictable - these blackpowder weapons, as well clockwork mechanisms, are used by the citizens to solve problems that would be handled by magic in other locales.
However, regarding the use of the Pathfinder Guns and Gears in the Adventure Path:
And regarding magic in the Adventure Path: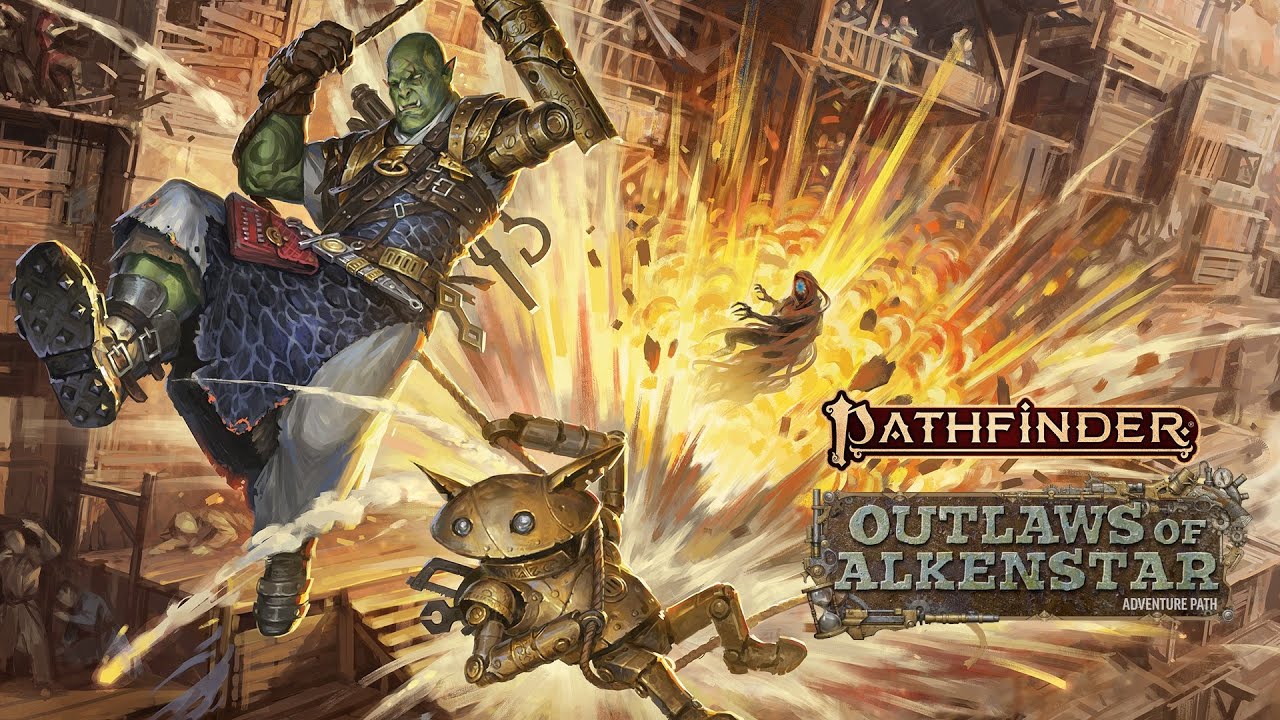 ---
Punks in a Powderkeg (Outlaws of Alkenstar #1) Synopsis:
A ragtag band of gunslinging outlaws get their hands dirty in the greasy alleyways and whisky-soaked saloons of Alkenstar, the City of Smog. To get revenge on the mogul who destroyed them, the renegades will have to stick up an illicit bank, foil a crooked shieldmarshal, and escort a reclusive inventor to safety. All the while, countless rough-and-tumble rivals aim to waylay the party and seize the inventor's latest concoction: pyronite, an explosive substance with the potential to change the face of the world. In a city where the clockwork guards are literally as tough as brass, the antiheroes will need true grit to dole out overdue justice.
---
All character options available from the following official Paizo sources:
---
No purchases necessary.
Will be using Guild Discord for voice communication and Foundry as our virtual table top. Players connect to Foundry games (for free) via their browser of choice (though Chrome-based browsers are very much preferred).
---
Game time is Saturdays at 20:00 EDT for 3 hours (ending at 23:00 EDT); 8:00 pm - 11:00 pm for people who don't math.
Session 0 - party composition discussion and finalization, character creation, last minute prep, and maybe even adventure start (if everyone is ready) will be on Saturday Oct 15th
Session 1 - Official adventure start will be on Saturday Oct 22nd