Skull and Bones is Assassin's Creed Black Flag without the Assassins. And it has sea shanties. And a GODDAMN Kraken!
By Alex Avard June 12, 2017PC
* [ COMMENTS](https://www.gamesradar.com/skull-and-bones-is-assassins-creed-black-flag-without-the-assassins-and-it-has-sea-shanties-and-a-goddamn-kraken/#comment-jump)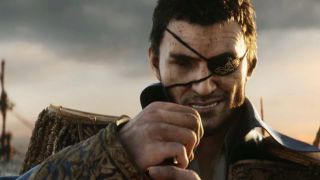 Ubisoft stuck to tradition with its E3 2017 press conference this year, revealing a new IP that stole the show with its brilliance. Skull and Bones is a tactical action game, which doubles down on the compelling naval compete previously seen in titles from Ubisoft's Assassin's Creed franchise.
Following a juicy CG trailer, Justin Farron, Skull and Bones' creative director, took the floor to describe the game as "the ultimate pirate experience." Players will rise up the ranks in the hopes of becoming the greatest sea warrior to traverse the massive setting of the 18th century Indian Ocean.
Skull and Bones is more than another open-world Ubisoft game though, as the shared universe is one in which budding sailors can play solo or form pirate gangs with friends, taking on other players in the game's competitive multiplayer seasons.
One such PvP mode, Loot Hunt, was shown on stage at the Ubisoft conference - a 5v5 battle which demonstrated the versatility of the combat and battle mechanics. Recognizable elements from Assassin's Creed 4: Black Flag, such as the battering rams, were on show, but players must now take account of new dynamic factors such as wind or, yes, deep sea monsters like Kraken.
From the soundbite echoing at the end of the demo, it looks like the glorious pirate shanty radio will also be making a comeback from Black Flag. Prepare to be singing "What shall we do with the drunken sailor" all over again.
Skull and Bones is set to release in Fall next year for PC, Xbox One, and PS4, but those who can't wait until then can sign up for beta access at the game's website.