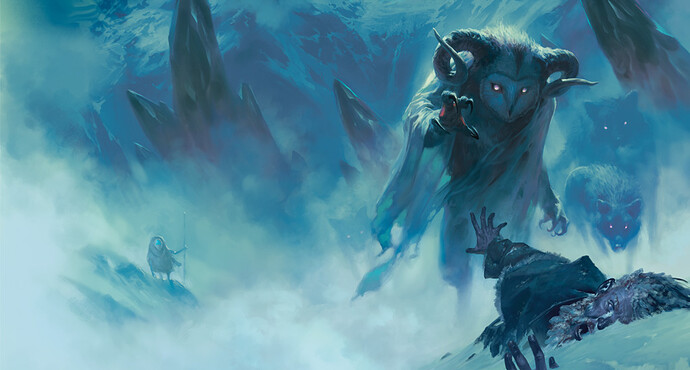 Game system: DnD 5e with a bit of homebrew rules
Adventure module: Icewind Dale – Rime of the Frost Maiden
VTTRPG platform: Roll20, all content will be featured in Roll20 and characters will be created in Roll20
Day and Time: Thursdays starting at 6 or 7pm est to be determined by the group during session zero
Run time: 3-4 hours per session
Session zero: Moved to Thursday, March 2nd, 2023 7pm EST
Game start: Thursday, April 13th, 2023, at 7pm EST
Themes: Endless Dark, cold, survival, exploration, some horror elements
Content allowed: Player's Handbook, Tasha's Cauldron of Everything, Xanather's Guide to Everything, Mordenkainen's Monsters of the Multiverse
Restricted content: Eberron, Strixhaven, Spelljammer, Ravenloft, certain races from Mordenkainen's Monsters of the Multiverse are restricted and this will be covered during session zero if it comes up.
Homebrew rules: There will be some changes regarding healing while resting to be discussed during session zero.
Roll20 and Discord server links will be PM'd to everyone once all players are chosen
The Crew: DM Ryuken
The Cast:
WELCOME TO THE FAR NORTH
North of the Spine of the World and west of the towering Reghed Glacier is a frigid expanse few dare to explore, let alone inhabit. This icy land of windswept tundra recently became locked in a perpetual, dark winter without reprieve. Auril the Frostmaiden, the divine embodiment of winter's fury, has withdrawn to this cold corner of the world to live among mortals. Further, she has cast a terrible spell over Icewind Dale, to the detriment of most of its denizens.
Each night before midnight, Auril takes to the sky on the back of a white roc and weaves her spell, which manifests as a shimmering curtain of light—a beautiful aurora that illuminates the night sky and fades before dawn. This powerful magic prevents the next day's sun from rising above the horizon, turning midday into twilight and trapping Icewind Dale in winter's dark embrace, with no sunlight or warmth to melt the snow and ice. With each casting of the spell the Frostmaiden channels enough divine power left to barricade the mountain pass with blizzards and churn the Sea of Moving Ice with blistering winds. Such measures discourage travelers from approaching or leaving Icewind Dale, further isolating the region. Icewind Dale has thus been trapped in a different reality from the rest of the world, for though the sun never rises over the dale, it continues to rise everywhere else.
Please refrain from posting spoilers regarding the campaign or discussing the story in this thread as I am running more than one game of this module. Feel free to discuss character ideas