---
VTT Client: Fantasy Grounds Unity (Ultimate License)
Host DM Name: scourge2805
Host Password: will provide via Discord or PM
Game Name: will provide via Discord or PM
Game System: Starfinder
Voice: OTG Guild Discord - VTT channel
Dates/Time: Sundays at 8 PM EDT through 11 PM EDT, and see below
Preferred Party Size: 4-6
Current Party:
Ocelot - Alydia Barriani - Drow Operative (Ace Pilot)
Quixote - Maxfield "Niknak" Ruhar - Ysoki Mechanic (Spacefarer)
Mithinar - Jack Storm - Android Soldier (Guard)
EATherrian - Ran Korfar - Aasimar Envoy (Vaster)
Ryukan - Maelchi Van Tennjic - Vlaka Envoy (Outlaw)
Stompey - Stompey - Dwarf Mystic (Vaster)
Party is closed.
---
This will be a running of the Fly Free or Die adventure path by Paizo for their Starfinder role playing game. It's a 6-volume Starfinder AP that runs from level 1 through level 13.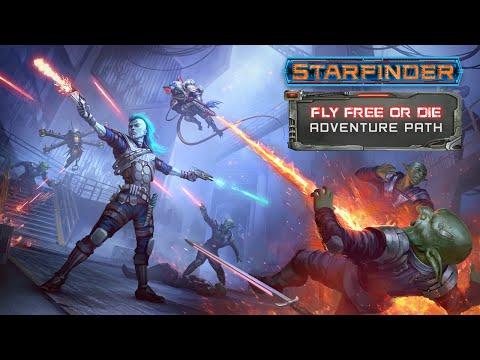 Fly Free or Die Player's Guide
---
Entire AP as well as first adventure synopses:
In this thrilling kick-off to the new Fly Free or Die Starfinder Adventure Path, a crew of scoundrels, rogues, and misfits finds it hard to survive in a galaxy where everyone has a price. Targeted by a crime boss and his army of enforcers, preyed upon by faceless mega-corporations, and hounded by rivals, the crew of the Free Trader Oliphaunt line up the big score that will at last make them rich beyond their wildest dreams. But when their many enemies join forces and the crew loses it all, they find out there's two things in the galaxy that can't be bought: freedom… and revenge.
It's just another day punching the clock when the player characters, a blue-collar transport crew, are blamed for a bad cargo and stiffed of their bonuses. They take a dangerous job smuggling weapons to a world conquered by militant hobgoblins, but one fiasco later, they're in debt to a crime boss and about to be fired. Their only chance is to steal the Oliphaunt , an experimental cargo hauler with a magical secret, and then survive long enough to collect the payoff!
---
All character options available from the following official Paizo sources:
Starfinder Core Rulebook
Starfinder Character Operations Manual
Starfinder Starship Operations Manual
Starfinder Galaxy Exploration Manual
Starfinder Armory
Starfinder Pact Worlds
Starfinder Near Space
Starfinder Alien Archive
Starfinder Alien Archive 2
Starfinder Alien Archive 3
Starfinder Alien Archive 4
Against the Aeon Throne

#1

- The Reach of Empire
Against the Aeon Throne

#2

- Escape from the Prison Moon
Against the Aeon Throne

#3

- The Rune Drive Gambit
SIgnal of Screams

#1

- The Diaspora Strain
Signal of Screams

#2

- The Penumbra Protocol
Signal of Screams

#3

- Heart of Night
The Devastation Ark

#1

- Waking the Worldseed
The Devastation Ark

#2

- The Starstone Blockade
Fly Free or Die Player's Guide
Strangely enough, races and archetypes from the Fly Free or Die AP will NOT be available 'cause we do not have the modules for them in Fantasy Grounds. Items, feats, spells, etc, from the AP WILL be available 'cause we can easily enter those by hand. I'll see about getting the backgrounds from the player's guide in… somehow.
Gameplay information and/or rules from all the above sources is available for free here.
Character creation within Fantasy Grounds for the Starfinder ruleset is kinda wonky. Be prepared.
---
No purchases necessary.
Will be using Guild Discord for voice communication and Fantasy Grounds Unity as our virtual table top. A free demo license of Fantasy Grounds Unity is fine for connecting to my game.
---
Game time is Sundays at 20:00 EDT for 3 hours (ending at 23:00 EDT); 8:00 pm - 11:00 pm for you non-sci-fi (non-)nerds.
Session -1 - AP discussion, character concepts, beginning character creation, etc will be on Jun 13th.
Session 0 - character finalization, character creation, last minute prep, etc will be on Jun 20th.
Session 1 - AP/adventure start will be on Jun 27th.
---
Campaign "Homework"
Watch any of:
Cowboy Bebop
Serenity or Firefly
The Expanse
almost any James Cameron movie, especially The Abyss
---
First Campaign Handout (Galactic Trade System)